How to Reach US...
---
Click on map for Shockwave of Highland Farm location.

The farm is on Route 1090. A basic bus service runs past the farm from Mae Sot. The farm is exactly at kilometer 42.8, south of Mae Sot.

Mae Sot is linked to both Bangkok and Chiang Mai by regular flights and frequent comfortable buses.
We can advise you on the best way to reach Highland Farm once you let us know when and where you'll be arriving in Thailand. We prefer communication by using our email address. We have no resident phone service but go into Mae Sot twice weekly to the public Internet Office to pick up email messages. You can use our postal address if you have documents or other information to send.
---
Highland Farm & Wildlife Refuge email address:
Highland Farm & Wildlife Refuge mailing address:
Deters, C/O Highland Farm & Wildlife Refuge, PO Box 24, A. Mae Sot, Tak 63110 Thailand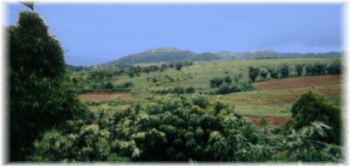 ---
If you would like to help us maintain our Gibbon Sanctuary & Primate Care Clinic, you may send adopt-a-gibbon/clinic donations to this special account... Krung Thai Bank, Mae Sot Branch, A. Mae Sot, TAK 63110, Thailand ATTN: highland_ape account #604-1-41229-5
We are self-supporting and DO NOT receive any funds from government and/or wildlife agencies.
THANK YOU FOR VISITING OUR SITE!
HOME || GIBBON SANCTUARY || EDUCATION OUTREACH || GUESTS and STAFF